Fall Schedule
We return to the Eddie Smith Field House for 5-day per week training
First practice is Wednesday, 8/28
Mon-Thu: 7PM
Fri: 6PM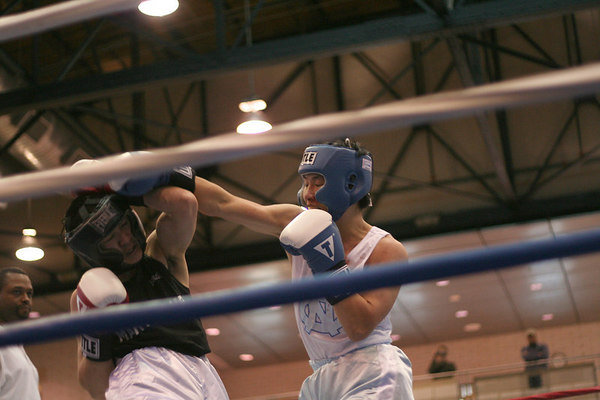 History
In 1876, Julian Baker brought boxing gloves to UNC's campus when he started the Athletic Association. Participation in the sport fluctuated over the subsequent decades highlighted by duel meets with Duke and VMI. Most recently, in 2002 Paul Kropp, a chemistry professor for the university, had begun teaching students the basics of boxing with informal workouts held weekly in the racquetball courts. Then in the fall of 2004, Chris Campbell, a student working out with Professor Kropp, registered the group as an officially recognized student organization. At about this time Matt Haley, a graduate student who boxed for Penn State, began attending the workouts to lend additional help with instruction and training. Registering the club with the National Collegiate Boxing Association remained only a topic of discussion until Dan Carleton finished his freshman season as a UNC varsity wrestler in 2006. Dan was interested in boxing competitively and became the catalyst for transforming the informal workouts into a nationally-competing team. He asked Matt Haley to step in as the first coach and begin the Carolina Boxing Club with three members, Dan as the president, and Frank Zhong and Travis Boyer as the team Captains. In the fall of 2006, the club held its first workouts, open to the student body and community and achieved a membership of over 50 members. Now, workouts can attract over 100 participants and tryouts for the competing team are held several times a year.
Club
In Short
The UNC Boxing Club was founded to teach the fundamentals of boxing to the UNC community. Our Monday and Wednesday practices are open to anyone interested in learning basic technique and engaging in group exercise sessions. The club is designed to introduce boxing and physical conditioning to individuals at all levels of experience and physical fitness.
Expectations
Our club workouts are aimed to be flexible to all fitness levels. We start each club practice with a warm up. Afterwards, participants are grouped by experience level and moved into the two main focuses of boxing: conditioning (strength and cardio) and boxing technique.
Our contact practices are aimed to be safe and technical. These practices are led and supervised by our coaches. Like the former, we start with a warm up, followed by partner contact drills and sparring. Although these practices are geared towards recruiting and maintaining our competitive team, we ensure no member will ever be hazed, pressured, or intentionally overwhelmed in any contact practice.
After the semesterly break (either Fall Break or Spring Break), we do not accept any new participants or members.
All workouts are done at an individual pace so no one should feel that this club is too rigorous or too easy given their current ability. Each club meeting will start with a warm up and stretch before proceeding into various exercises focusing on strength, endurance, and technique. This is generally accomplished by splitting the attendants into different groups. As the semester progresses, more time is spent on technique practice. However, in order to participate, each attendant must sign and submit a waiver, which may be found here. Students attending UNC should agree to a waiver via our organization page on Student Life, under Forms.
Meeting Times
During fall and spring, we hold non-contact practices on Mondays, Wednesdays, and Thursdays in the Eddie Smith Field House. Monday and Wednesday practices are a mix of conditioning and technique training. Thursday practices are focused on technique training and open to only members with at least one semester of training.
Contact practices are held on Tuesdays and Fridays. These practices are open to members with at least a semester (3 months) of boxing experience, a current physical (which must signed by MD, DO, or PA), and a USA Boxing passbook.
During the summer, less formal practices are usually held once a week.
Dues
New members: $50. After four weeks, $60. Includes official club t-shirt and pair of hand wraps.
Returning members: $35. After four weeks, $60. Includes $10 rebate upon receipt of passbook purchase, access to Thursday practices.
After the semesterly break (either Fall Break or Spring Break), we do not accept any new participants or members.
Equipment
We provide all equipment needed for our club workouts: bag gloves, punching mitts, headgear, jump ropes, etc. Members have the option to purchase their equipment at a discounted price. Membership dues help pay for the equipment used during every club practice, and we make every effort possible to ensure that our equipment is in good condition. We ask that members keep their personal hand wraps clean and dry.
Staff
President: Le Ho
Vice President: Tim Sloan
Treasurer: Hannah Levy
Secretary: San Bae
Social Operations Chair: Gabe Fields
Team Captain: Loc Ho
Head Club Trainer: Casey Turczynski
Club Trainers: Eddy Rios, Daniel Cortes, San Bae, Ramy Sharaf, Vivian Scimone, Fionna Provencher, Wyatt Bridgman, Johnny Sobczak
Webmaster: R. Colin Jennings
Photographs: Roger Yu, Jeremy Lang, among others
Coaches: Josh Sokal, Loc Ho, Jake Beeson
Faculty Adviser: Luke Morgan
Team
Interested in filling vacancies in the roster? See here.
FAQ
I am not an undergraduate student at UNC, am I still able to join?
Yes, we welcome anyone interested in boxing!  Although our members are primarily undergraduates, some graduate students, high school students, professors, and community members also attend.
Is there a cut off date for new members?
Yes, after the semesterly break (either Fall Break or Spring Break), we do not accept any new participants or members.
How much are dues, what is included, and where do they go?
Club dues are $50/semester for new members.  This includes a club T-shirt and hand wraps.  Returning members pay $35/semester, and receive a $10 rebate with a USA Boxing passbook registration or renewal. Four weeks after the start of the semester, all membership dues increase to $60. All dues go back into the organization. Dues help pay for new equipment, team travel,  socials, and much more. All staff are volunteers.
How can I purchase UNC Boxing merchandise?
At practice, we sell the club's official t-shirts and tank tops.  We also sell gloves at wholesale prices and encourage members to purchase a pair.
Will I be expected to show up at every practice?
No, feel free to come to practices at your leisure. However, if you're interested in competition you should attend as many practices as possible.
What is a USA Boxing passbook and where do I get one?
USA Boxing governs amateur boxing in the United States, which includes college level boxing. The passbook is your registration document and provides secondary health and dental insurance, and liability coverage for the club. See this document for details on getting a passbook. Review this CDC concussion fact sheet before participating in contact,
I've trained at a boxing gym before, is the UNC club like that?
No, all boxing gyms are different and college clubs are no exception.
I have prior boxing experience and want to join the team, how soon can I try out?
If you have prior sanctioned amateur bouts and a current USA Boxing passbook, then a try-out will be scheduled once you've trained at the club for a few weeks to get a feel for the program.
Where can I learn more?
We are active on Facebook, Twitter, Instagram, and Heel Life. You may also want to check out USA Boxing and National Collegiate Boxing Association. To subscribe to our mailing list (uncboxingclub), click here and send the subscribe request.